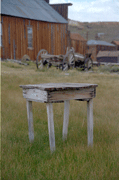 Gold was discovered along Bodie Creek in 1859 and the place grew to a rough and tumble mining town of 10,000 inhabitants. When the gold supply petered out, people moved on and left behind one of California's best preserved ghost towns.

This print is an easy way to accent a home or office with museum-quality photography. Surrounded by a black wood composite frame, carefully positioned on a bevel-cut mat, and protected by glass, this is not a poster but an original photographic print.

5 x 7" print matte size is 8 x 10".
8 x 10" print framed size is 14 x 17".
8 x 10" print matte size is 11 x 14".
16 x 20" print matte size is 20 x 24".