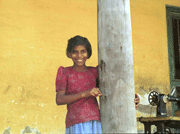 Pondicherry is a former French colony settled in the early 18th century which still retains much of the colonial lifestyle. This young girl came running out of her house when she spotted the Westerners wandering down the street.

This print is an easy way to accent a home or office with museum-quality photography. Surrounded by a black wood composite frame, carefully positioned on a bevel-cut mat, and protected by glass, this is not a poster but an original photographic print.

5 x 7" print matte size is 8 x 10".
8 x 10" print framed size is 14 x 17".
8 x 10" print matte size is 11 x 14".
16 x 20" print matte size is 20 x 24".