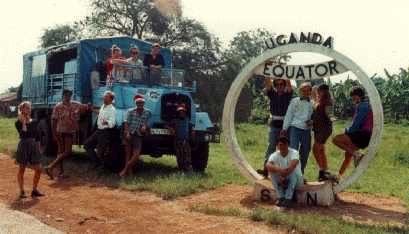 So much for leaving at 8:00 a.m.. We woke up at 9:00 a.m. feeling very slow, but not hung over. We all piled into the truck by 10:00 a.m. and had, I think, the most relaxing day of driving we'd ever had because everyone was so out of it from our Christmas Eve party. We drove all day, stopping at the equator, where there's this large monument to take pictures and wander around, arriving that evening in Entebbe, a resort town that sits on the edge of Lake Victoria – the largest lake in the world. We handed out our Christmas gifts (we'd all drawn a name out of a hat a week earlier) and I received a shell on a piece of string from Raewyn. I made Jenni a portable backgammon set made out of some cotton material I'd sewn into a drawstring type bag to keep the pieces in.
After gifts we went to the resort and had our Christmas diner of fresh BBQ'd fish and chips – just like what you'd get in Malawi – it was great. We sat there talking after dinner until the largest spider I have ever seen outside the Smithsonian descended down from the roof of the hut we were eating in. The thing was big, black and white spotted and must have been about two inched long (it's torso). If it had lowered itself into the ashtray there might have been a space problem keeping its legs inside the tray. The girls all got up and moved away as the waiter grabbed the arachnid's web it was hanging from and tossed it into the bushes.
We left the diner table and headed over to the outdoor disco which was absolutely blaring all sorts of different music (none of which I'd heard before), We hung out there briefly but we were still knackered from the night before. We headed over to the truck to hang out and use the phone – the jay fay was still with us from Christmas Eve – before crashing out.