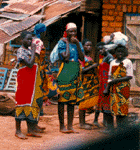 It is absolutely pissing down with rain this morning; if these are the short rains I wouldn't like to see the long heavy ones.
After talking to these other travelers, we decided it wasn't worth it to travel around Kenya on our own right now; if everything gets stolen, then we're going to have some major problems getting some visas and plane tickets re-issued. Not a risk I'm prepared to take right now. In light of that we changed out plane tickets and are flying to Harare today. We also signed up for an overland safari with Kumuka – both Sarah and Jude took trips with them and had good times. Our safari is six and a half weeks, leaving from Harare on November 22nd. We've got some time to kill, so why not head down to Zimbabwe early?
The rain just picked up three more notches – it's creating a waterfall off the corrugated metal roof over the porch. We're just hanging out here at Ma Roach's until it's time to head out to the airport.
Took our Air Zimbabwe flight down to Harare, arriving late this evening. I can honestly say that I think Air Zim has some of the worst airplane food I've tasted. How about four finger sandwiches wrapped in plastic – one, cheese which tasted like the wrapper it came in, and the other made of some tuna or meat something or other.
Upon arrival we got a cab over to the Sable Lodge, which was recommended to us in Nairobi, where we got a couple of beds out in the dorm. We'd been there not five minutes when I went out on the porch and met some other travelers sitting with a local, all of who were rolling the largest jay fays you've ever seen. I asked if there was any extra around for a price and the local dude pulled three thin corn cobs out of his pocket. I chose one, paid him Z$25 (US$5) and went back inside to show Rich what I'd bought.
Rich was a little surprised that I'd come across some in the first moments of being there. Our cob (as they're called) was the length of a medium size cob of corn, with the husk tightly tied around, not corn, but stuff the jay fay brings you. It wasn't as large as it's vegetable relative, maybe one inch across, and compressed to hell. You had to work to get the stuff to break up for a session. We sat out on the porch of the backyard and talked to the other travelers staying there.
One of the first things that struck me was that these travelers were more like Rich and I, not the rugged, live in Africa types of Nairobi. (As I see it now maybe I just though they were rugged because they were on the road for so long. We were gone just as long and probably looked as rugged as they did at some points.) Plus, the place we were staying in was indicative of some of the travelers. It's a 180° change from our accommodation in Kenya. We were staying in what I would call a traveler's country club for Z$22 (US$5) a night. It was just like a country club as well, with the clubhouse (where we were staying) complete with pool table, 2 large dorm rooms, but not so big it was like a military barracks, and a bunch of regular rooms for people to stay in (for a higher price). There was a porch facing the front of the enclosed compound, where we would sit on the couches smoking, looking out across the lawn and watching the other travelers swimming in the outdoor pool. There were lounge chairs spread out along the grass, as well as more outdoor tables and chairs for those of you who want to play cards or write in your journals.
Wait, it gets better. Every morning there's a maid who cleans the whole place, there's a 24 hour security guard on the grounds, and there are other people who will take your order for a grilled tomato and cheese sandwich and bring it to you when it's cooked. Laundry wasn't a problem, just a fee, and there was free toilet paper in the clean, Western bathrooms. (That's a big thing when you have to start carrying it around with you.) Hot water even made a cameo appearance every once in a while, but it was summer, so not that necessary. It was awesome, and since we'd be in town for a few days I wasn't fussed about the accommodation.
All we did that first night was smoke and get to know the other travelers who were staying there.